Looking back over the last five years, various occasions have reflected the kind of Prime Minister Cameron really is. Remember pastygate? Those country suppers with Rebeka Brooks? The time he left important Northern Ireland peace negotiations early for toattend a "rave" at Chequers with B-list celebrities for Sam Cam's 40th birthday (made even more bizarre by the fact that she was actually 43)?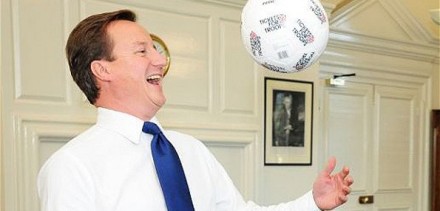 All you need to know about the kind of person Cameron is can be summed up by last week's gaff when he claimed to "forget" which football team he supported. Rather than being honest and admitted he is not a football fan (as he has done in the past), Cameron has made an obvious and pathetic attempt to pretend he is into football. Forgetting his football team made him looked ridiculously inauthentic, foolish and lightweight.
It is interesting Cameron felt the need to pretend he liked football. I imagine he did this because football matters enormously to millions of people in Britain. Supporting a particular football club is an important part of our cultural identity. As much as some of us may sometimes like to forget which team we support, it would be like forgetting our own name.
In contrast, Labour gets football. For everyone who has yet got round to reading all 84 pages of the Labour manifesto, the section that covers important policies areas like crime and immigration includes Labour's plans for football.
Labour recognises that football clubs are not businesses, they are community assets. Far from being a millionaire's plaything, football clubs belong to their communities. Sadly, sometimes club owners, the Premier League and Football Association forget this.
My brother-in-law is quite into German football. He was recently for the price of attending a London-based Premier League match, he can travel to Germany to watch top Bungesliga games. In Germany, football clubs are owned by their fans and, surprise surprise, tickets for matches are generally a good deal cheaper. The UK could not legislate for a German fan-ownership model as this would breach EU competition law. Labour's proposals for supporters on boards are the next best thing.
The proposals, on pages 55-56 of the manifesto, read:
"Football clubs are an important part of many people's identity and sense of belonging. They are more than just businesses. But despite their importance in the lives of their members and supporters, too often there are no effective means for fans to have a say in how their clubs are run. Labour will provide the means for supporters to be a genuine part of their clubs. We will introduce legislation to enable accredited supporters trusts to appoint and remove at least two of the directors of a football club and to purchase shares when the club changes hands. We will also review the role of fan participation in other sports.
We will ensure the Premier League delivers on its promise to invest five per cent of its domestic and international television rights income into funding the grassroots."
Labour's manifesto is full of excellent policies that will transform our communities and demonstrate the real and positive difference a Labour government will make. Our proposals for football are clear, can be easily implemented and will stand up to any legal challenges. The principal of supporters on boards reflects our wider values and should also pave the way for places for workers on the boards of companies.
The plans are also symbolic of the wider narrative that is framing this election – the most important election for a generation. As another blogger put it, "it is a clear demonstration that Labour is prepared to take power away from a self-interested elite and give power to the people."
Alice Perry is a Labour councillor and represents Local Government on Labour's National Executive Committee
This blog first appeared on Labourlist